Will Your Child Love Piano Lessons?
Did you have piano lessons when you were a child? Perhaps you found them boring, frustrating or repetitious? Or did you gave up playing the piano when you were younger and you now you regret it? When you think of piano lessons, do you picture a strict lady working from an ancient piano in her living room, barking out orders?

These are all things we commonly hear from parents. And we understand. Every parent wants to ensure that their child loves their piano lessons. That's why we do things a little differently at Hikari Arts.

At our school, students are happy and motivated to have lessons with us every week. How do we know? The students you see above with their certificates, are part of dozens of students who have achieved their 100, 200 or even 300 lesson certificates! They love their piano lessons so much, it becomes part of their lives and something they enjoy for years to come.

So what keeps our students excited to come back every week? I would love to tell you more….
Introducing..
The Turbo Keys Piano Programme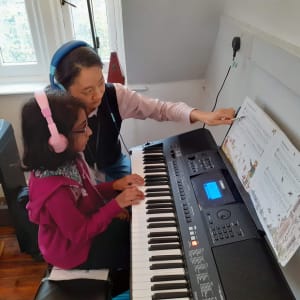 Our Turbo Keys lessons is a once a week piano programme for 6-17 year olds. 
The programme is designed to help students to move through their music books quickly and turbo speed their progress.
Because we help students to FEEL the music rather than THINK the music, children do not feel as though they are taking yet another boring academic subject. 
Students practice all of their piano music IN THE LESSON. So when they get home, they already know what they are doing. 
Lessons are based in the Town Hall located in the heart of Swindon Town Centre. The venue is local, convenient and safe.
No more issues with transport, parking or waiting around for your child to finish their lesson!
So What's Included When You Join?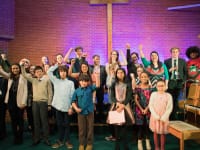 Yay! Student Superstar Showcase
Students have the opportunity to show off their piano skills in our annual shows! These are always a big hit with out students and their family and friends.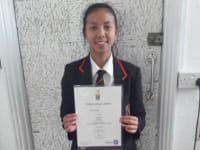 Piano students have the option of taking graded exams from Trinity College London. These are exams are recognised by many education authorities worldwide, including UCAS university tariff points system.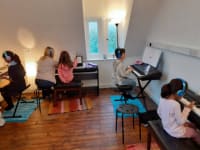 Yay! Weekly Turbo Keys Lessons
This is the main way that students experience progress. Each week students learn all their music right there in the classroom. No more complaining at home about not understanding the music!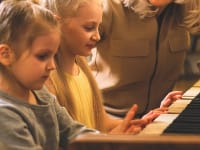 Yay! Sibling Discount
Music has an incredible ability to bring families together and provides a great shared experience for siblings. Get a discount when more than one child joins Hikari Arts.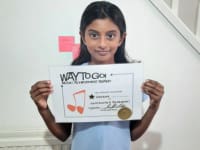 Yay! Progress Certificates And Social Media Spotlight
We send handwritten cards and certificates to students who show good progress. Students then star on our social media spotlights!​
Yay! Phone And Email Support
If you are ever stuck on anything or need some help, we are always just a phone call or message away.
Would You Like To Learn More?
We would love to answer your questions! Please click below to learn more.
Performance Opportunities
Our piano students have the chance to perform in our 'Superstar Showcase' event. Many of our students describe it a the most magical part of their piano journey. You can send a video of your child performing to friends and relatives! It makes for an incredible memory for years to come.
'For Alfie, performing in the Hikari Arts show was not just the highlight of their  musical journey, but one of the highlights of their life' – Studio Parent
All our piano students are given the opportunity to take graded piano exams through Trinity College London. Trinity music exams develop real-life skills, creating confident and creative performers, and are recognised by many education authorities worldwide.
We are so proud to have a 99.8% pass rate for exam entries over 12 years! Our students are so proud of themselves when they pass their piano exams and have something exciting to tell their family and friends about 🙂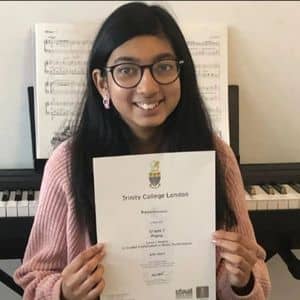 I have been performing from a young age and have been interested in music for the same amount of time. I started having piano lessons alongside my voice lessons. I am now completing a Performing Arts course at Bath College and hope to go into a creative industry in which I can use the skills I have gained from my lessons. I have found working with Nina to be extremely helpful with not only my ability with both piano and voice but also my confidence levels as I have had lots of performance opportunities and help from Nina to find techniques that make performing easier for me.
Would You Like To Join Us?
We would love to hear from you! To learn more please click below to contact us.