Does Your Child Need A Confidence Boost?
Does your child sing when they feel other people aren't listening? Or only sing for select people because they feel embarrassed or self conscious in front of their friends? Over the years we have had many people visit for the first time, eager to improve their singing voice. But this is what we typically hear from parents:
"Claire loves to sing around the house all the time, but she is so shy in front of others"
"If Alfie has a little bit more confidence, I think he would surprise people with his voice"
"Steph has a lovely voice she just needs more opportunities to perform"
When we realised that the real problem was not with the voice but with personal factors such as confidence levels, we created a small group singing programme which would help students to grow and come out of their shell.
What is the programme? We would love to tell you more….
Introducing..
The Spotlight Singing Programme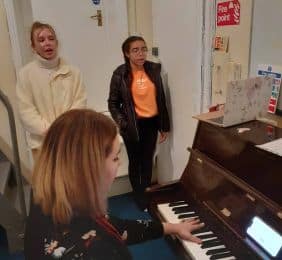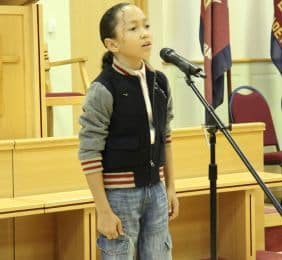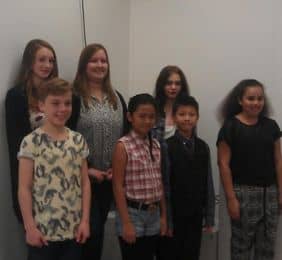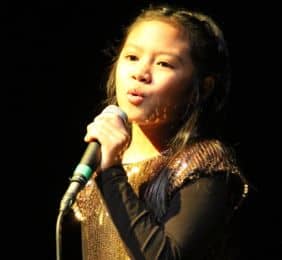 The Spotlight singing programme is a once a week after school singing class designed specifically for children and teenagers age 6-15 years.
In this programme, students work with a blend of small group tuition (up to 4 people) and 1-1 instruction from the teacher.
Would You Like These Things For Your Child?
What's Included When You Join?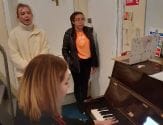 Great! Weekly Spotlight Classes
These classes are the main way that students experience progress each week. Students learn great vocal technique and performance skills, whilst having fun with their friends in class.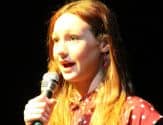 Great! Student Superstar Showcase
Singing students have the opportunity to showcase their voices in our annual shows. These are always a hit with students and their family alike!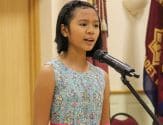 Great! Termly 'Student Spotlight' Showings
Because we believe that every students should have the chance to shine, students have the opportunity to perform in our showcases at the end of every term!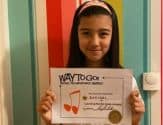 Great! Progress Certificates and Social Media Spotlight
We send handwritten cards and certificates to students who show good progress. Students then star on our social media spotlights!​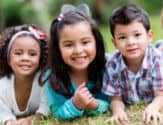 Great! Family Discount
Singing is an enjoyable experience for all the family. So you receive a discount when you enroll more than one family member.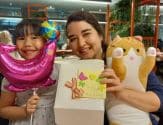 Great! Email And Phone Support
If you ever need us for any support or advice, please reach out! We are happy to help.
Do You Have Any Questions For Us?
We would be happy to answer them! Please contact us by clicking the button below.
How One Of Our Students Got On The X Factor!
See What Simon Cowell And Cheryl Had To Say!
Shania had lessons with Nina at Hikari Arts from 2013-2016. She is the girl stood right in the middle in the video above! She wanted to concentrate primarily on voice, but decided to also take some lessons in piano and music theory. She even took a music theory exam passing with an incredible 92%!
Shania successfully auditioned for Bimm Institute Brighton, and was accepted on to their 3 year degree program.
After graduating, Shania auditioned for the X Factor with her girlband Lemonade, and made it all the way to Simon Cowell's Judges Houses!
Shania continues to work in the music industry as a writer and session artist.
""I came to Nina to have my first ever vocal lesson. Not only did I learn amazing technique and expand my vocal range, I also gained incredible confidence. Her methods of coaching are special, comforting and so motivating and I saw improvements instantly. A few years on and I've now performed for 5 Thousand people in Wembley Arena with my girlband Lemonade. None of this would have happened without Nina for that I am so thankful, I couldn't recommend her enough "
"For Alfie, performing in the Hikari Arts show was not just the highlight of their musical journey, but one of the highlights of their life" – Studio Parent
I took vocal lessons here for 2 years before I left to further my musical education at college. I am so glad I decided to study here as they pushed me to come out of my shell and discover my potential. These lessons allowed me to realise that I wanted to further my career in music and I am now studying songwriting in Brighton and experimenting by pushing my creative boundaries and understanding myself more as an artist.
"I moved to Coventry for 3 years to do my degree and I left with a BA hons in Popular Music and Worship. Having lessons here made me realise that I could enjoy what I loved to do. Over my younger years, I was told I should stop singing by a friend and that really effected me. At my singing lessons, I felt relaxed, cared for, and that my teacher had my best interests at heart. I'd recommended anyone to come and have lessons here."
Would You Like To Join Us?
Or do you have any questions? click below to contact us.